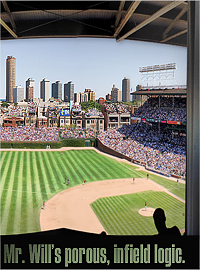 To employ another baseball analogy referencing his favorite team, Mr. Will's logic is more porous than a Chicago Cubs infield.
To employ a metaphor from his beloved pastime, George Will just swung and whiffed. Badly.
Last week, in a curiously defeatist commentary bordering on bizarre, the bow-tied dean suggested conservative acceptance of an Obama victory in 2012.
After summarily asserting that neither Mitt Romney nor Rick Santorum, "seems likely to be elected," Will proceeded to explain that conservatives might be wise to redirect their efforts to "retaining control of the House and regaining control of the Senate." Even while conceding that an Obama reelection would risk disastrous judicial and regulatory agency appointments, Will proceeded to argue that this would somehow restore a proper balance between the legislative and executive branches, and that Republican "majorities will serve as fine-mesh filters, removing President Obama's initiatives from the stream of legislation."
In support of his claim, Will cited Obama's failure to achieve union card-check and environmentally extremist cap-and-trade legislation:
"Three years ago, conservatives were particularly focused on stopping two of Obama's principal goals – a cap-and-trade climate policy and 'card check' to abolish secret ballots in unionization elections. He still speaks incessantly but no longer speaks about either. And were it not for grossly corrupt conduct by Justice Department prosecutors in the trial of Sen. Ted Stevens (R – Alaska), which cost him reelection, ObamaCare would not have passed."
To employ another baseball analogy referencing his favorite team, Mr. Will's logic is more porous than a Chicago Cubs infield.
First, survey data hardly justifies Will's pessimism. Presumptive Republican nominee Mitt Romney roughly matches Obama despite months of GOP primary fratricide, and even led Obama 50% to 46% in a recent Gallup survey. At this point in 1980, by contrast, Jimmy Carter led Ronald Reagan 58% to 40% while former President Gerald Ford lamented Reagan's likely inability to defeat the bumbling incumbent.
Second, consider electoral mathematics. Even at the height of his popularity and the depth of Republican popularity in 2008, Obama won five critical states by less than 4%: Florida, Ohio, Virginia, North Carolina and Indiana. Far less popular four years later and extremely unlikely to flip a state that he lost in 2008, losing those states and one other will cost Obama this November's election. In those states, according to Gallup's latest tally, Obama's disapproval rating exceeds his approval rating by 4.2% in Florida, 8.1% in Ohio, 4.5% in Virginia, 4.8% in North Carolina and 12.1% in Indiana.
In other swing states, Obama's disapproval outweighs his approval by 9.5% in New Mexico, 9.3% in Nevada, 2.8% in Pennsylvania, 14.4% in Missouri, 12.1% in Arizona, 15.7% in New Hampshire, 11.8% in Colorado and even 2.6% in Oregon.
Those numbers should terrify Team Obama.
Third, for all of the talk of Republican malaise, things are even worse among Democrats. The only reason that might come as a surprise is that Democrats' enthusiasm deficit receives little publicity in the absence of a primary campaign. But according to Gallup, the percentage of Republicans who report that they're "more enthusiastic than usual about voting" this year exceeds the percentage of Democrats by a 53% to 45% margin. If that doesn't come as alarming news to Democrats, consider that they held an enormous 79% to 44% enthusiasm advantage at this same point in 2008. So in four years, Democrats have plummeted from a 35% edge to an 8% deficit. The nonpartisan organization Third Way also reports that Democratic voter registration in battleground states has declined at almost three times the Republican rate since 2008.
Fourth, it's not as if recapturing the White House and seeking Congressional majorities are mutually exclusive goals. Republicans already continue to outpoll Democrats in generic Congressional surveys, as they have consistently since Obama's election. Moreover, Will regularly (and correctly) debunks the notion that campaign spending ensures electoral victory, so he cannot contrarily claim that shifting dollars from the presidential race to Congressional races would guarantee House and Senate majorities. Also keep in mind that Republicans are already likely to recapture the Senate and retain the House. Democrats must defend 23 open Senate seats this November, many of those in "red" states like Virginia and Montana where they prevailed by the slimmest of margins during an enormously advantageous 2006 cycle. In contrast, Republicans defend only 10 open seats this year, many of them also in relatively secure red states like Arizona.
Fifth, when Will cites Obama's failure to secure union card-check and carbon cap-and-tax legislation, he overlooks the fact that those failures occurred while Democrats overwhelmingly controlled both the House and Senate. Additionally, the 2010 Republican takeover of the House has obviously not put an end to Obama Administration malfeasance, including the new Health and Human Services ObamaCare mandate that violates First Amendment religious freedoms.
Accordingly, the real-world evidence suggests that conservatives would be wise to ignore George Will's counsel. Rarely can that be said, but it just proves that all things are possible.
Perhaps even a Cubs World Series victory for the first time in our lives.