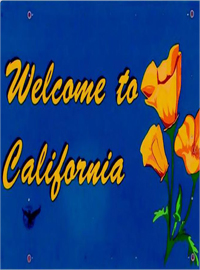 Only with a tax and regulatory scheme that promotes economic growth – capital formation, business expansion, increases in employment – can a society afford to take care of the members who can least afford to take of themselves.
With California's new budget that went into effect on July 1, one question comes to mind about the unsustainable method of governing employed by California's Democrats: Why on earth can't these people understand that in order to afford the welfare state a government must first concern itself with economic growth, and only then with providing social services?
The argument is simple. Economic growth makes welfare possible. Since nice things cost money, it is logical to ask how a new program will be paid for before agreeing to create it. Granted, that order of operation may sound heretical to supporters of the Nanny State, but fiscal reality demands it. Only with a tax and regulatory scheme that promotes economic growth – capital formation, business expansion, increases in employment – can a society afford to take care of the members who can least afford to take of themselves.
Economic growth also makes welfare less likely to be used. In order for a social service to be sustainable, many more people need to be funding it than using it. This latter point is the reason that at its beginning Social Security was only available to people at an age beyond the normal life expectancy. Thus, while most people paid in (farmers and the self-employed were exempt), only the exceptionally hardy elderly person would collect the promised benefit. Even a liberal president as generous as FDR understood – as did his fellow New Dealers – that a universally used benefit bankrupts the country.
But Social Security is a negative example of a positive insight preached by the late Jack Kemp: economic growth makes welfare less attractive. The reason is that welfare puts an upper limit on income. A dynamic economy that is creating more jobs than workers does not. In the Great Recession, America has far more workers than work to go around. What states like California need to do is not continue to raise welfare benefits, but rather focus energy and expertise into bringing job-producing private businesses back home.
California's Republican lawmakers are right to stand their ground on spending cuts in order to balance the state's budget. To an extent, Democrats are correct that a majority of California voters want the social services the state currently provides – they just don't want to pay for them with increased taxes. An immediate goal of both parties should be to put together a package of reforms that trim state services (which the new budget does), while also removing the biggest barriers to economic growth (which it did not touch).
As California's new budget goes into effect, Republicans – and especially conservatives – must educate the state's voters on two issues before next year's election.
First, Governor Brown and the Democrats could have had a long-term budget solution if they had been willing to reopen public employee pension agreements and rethink some of the tax code. In the face of primary threats and hostile talk radio hosts, a handful of Republican State Senators tried for weeks to negotiate those reforms. In exchange, they would support submitting a statewide ballot initiative to voters asking them to approve extending a package of two-year tax increases. Brown refused, the senators pulled out and the tax increases expired last week.
If at any point in the next year liberals attack Republicans for stonewalling on budget issues, GOP leaders should hold up those senators as an example of good faith bargaining that was disrespected. In tandem, the GOP should remind the media and voters that not one Democrat came forward on behalf of economic growth, pension reform or loosening the environmental lobby's stranglehold on development. No Democrat should get a pass for failing the basic test of leadership for any majority party: passing a budget on time.
The other issue California Republicans should be clear and consistent on is that no one (or almost no one) in the caucus is arguing for a complete dismantling of the state's social services system. Programs that offer low-income parents of developmentally delayed children early intervention services ensure that thousands of kids escape the cycle of dependency they are otherwise destined for. CalWorks – the state's highly successful welfare-to-workfare program – is another example of a short-term service that makes a lifetime of difference.
Conservatives trying to win majority support in California are foolish to run against these kinds of programs because they work. But if fiscal hawks only articulate a message of spending cuts, they'll be tarred with the Scrooge label by default. The genius of Ronald Reagan and Jack Kemp was to paint a picture that emphasized the societal good that comes from economic growth, among them money to fund welfare that works.
California's Republicans won a major victory by making Democrats accept serious cuts in the state's budget. But unless state GOP leaders can build on that success with a consistent, clear package of reforms to get California's economy growing again over the next year, the party risks sinking further into irrelevancy.