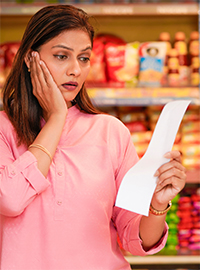 Cumulatively, the Biden era has thus been a punishing one for American consumers, working classes in particular.
Joe Biden regularly insists that "Bidenomics" means building an economy "from the bottom up and the middle out."
In a cruel irony, however, it's actually high inflation and now rising interest rates that are hitting Americans from the bottom up and the middle out.
To understand why, consider the types of products and services most subject to persistent inflation since Biden took office in January 2021. They're disproportionately the type of non-discretionary products and services that we all must buy to survive and go about our everyday lives.
In contrast, many discretionary and even luxury items that have moderated in price bring down the overall Consumer Price Index and thereby create a deceptively moderated overall inflation rate.
When calculating the overall inflation rate, the federal government examines hundreds of products and services across dozens of cities and thousands of households and businesses. And as noted by economist Stephen Moore, the prices of many comparatively "must-buy" products and services have risen much higher since Biden entered the White House than many discretionary items that consumers can postpone purchasing. For example, during the past 30 months gasoline has increased 35.4%, rent and residence costs have risen 31.3%, eggs have risen 26.0%, cereal has risen 24.0%, electricity 22.4% and even coffee 19.8%. In contrast, items like new cellphones have declined 25.7%, televisions 16.7% and computers 2.5%.
Accordingly, while the products and services experiencing more moderated price increases or even price declines are all important in our economy, they're not necessarily the products that working Americans must buy on a week-to-week basis. Those sorts of products have experienced dramatic and sustained price increases under Joe Biden.
Consequently, it's the working classes who suffer most under Bidenomics.
Beyond everyday consumer staples, moreover, a jarring news item this week from The Wall Street Journal illustrates how traditional hallmark products of American life like automobiles are increasingly beyond the reach of more and more consumers. In stark metrics that we can all instantly grasp, the report highlights how soaring auto prices and surging loan delinquencies signal that fewer consumers can afford cars:
Five years ago, there were a dozen models of new cars that sold for less than $20,000. In 2023, there was only one: the spartan Mitsubishi Mirage hatchback, which accounted for about 5,300 of the 7.7 million new vehicles sold in the U.S. in the first half of the year.
If you are willing to spend more than $100,000, you can choose from 32 models. For the average American, paying off a new car at current prices demands 42 weeks of income, according to data from Cox Automotive, up from around 33 before the pandemic.
Bargains have been hard to come by on the used-car lot as well, where the average vehicle listed for about $27,000 – up from more than 30% from pre-pandemic levels, according to Cox's data.
For another headline highlighting just how bad Bidenomics has been for working-class Americans, consider a CNN report entitled "US Inflation Means Families Are Spending $709 More per Month Than Two Years Ago":
US inflation has had a snowballing effect on family budgets. The typical American household spent $709 more in July than they did two years ago to buy the same goods and services, according to Moody's Analytics.
That figure underscores the cumulative impact of high inflation has had on consumer finances – even as price growth has cooled considerably in recent months. … Even though prices have soared, real earnings, which adjust for inflation, are stuck at late 2019 levels.
Meanwhile, higher interest rates are also increasingly punishing working-class consumers.
This week, the average rate on a 30-year fixed-rate mortgage rose to 7.48%, which is the highest rate since November 2000. That not only prevents first-time buyers from buying homes and accumulating equity, it also prevents current homeowners from trading up or relocating as their families expand or they pursue career opportunities in other cities.
Elsewhere, consumer credit card debt also reached a new record this month and exceeded $1 trillion for the first time. Bizarrely, however, the Biden Administration and leftists across the nation continue to target short-term lenders, thereby cutting off a private sector option to access emergency funds. In turn, that steers struggling consumers toward even more credit card debt, bankruptcy, greater government dependency or even dangerous loansharks.
Cumulatively, the Biden era has thus been a punishing one for American consumers, working classes in particular.
When people who attempt to sell "Bidenomics" wonder why their messaging isn't resonating, these on-the-ground realities offer an obvious answer if they're willing to open their eyes and perhaps even contemplate a change of economic course.