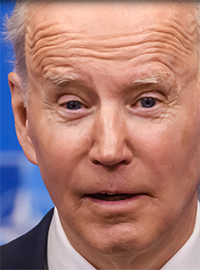 First and most alarmingly, Americans' standard of living under Biden has now declined for 24 consecutive months, which sets an ignominious new record.
Two years into a presidency plagued by unprecedented depths of dysfunction, Joe Biden officially asked American voters this week for six more.
Most observers, of course, characterize Biden's request as seeking "four more years," perhaps best captured by Wall Street Journal columnist Gerard Baker's commentary entitled "Biden's 'Four More Years' Sounds Like a Prison Term."
Because a second Biden term would extend to 2029, however, it's more helpful to conceptualize the prospect as six more years of what we've endured for the past two.
In that vein, even Biden's enablers in the mainstream media openly acknowledge his flagging approval rating and other disquieting indicators of public wellbeing.
Beyond merely lackluster surveys that have become common knowledge, however, several new measures reaching record lows capture the gravity of the request that Biden is making of the American public.
First and most alarmingly, Americans' standard of living under Biden has now declined for 24 consecutive months, which sets an ignominious new record.
According to the federal government's official data form the Bureau of Labor Statistics, weekly U.S. earnings reached a record high of $338.57 in January 2021. Since that time, inflation has exceeded wage gains every month, leaving Americans with less purchasing power. Inflation has increased a cumulative 15%, while wages have only increased 9%, leaving the average American $7,400 poorer. Weekly earnings reached their trending nadir of $322.96 in June of last year, and in the latest report stood at just $326.40.
Accordingly, Americans have suffered a pay cut for a record 24 consecutive months under Biden due to his reckless economic policies.
And while Biden insists that he's protecting Social Security and retirees, one underemphasized point is how devastating those reductions in purchasing power are to Americans on fixed incomes and who rely upon savings. While Biden seeks to forgive student loans and reward people whose financial irresponsibility resulted in low credit scores, his policies are punishing seniors.
Separately, a new CNBC poll shows that Americans' views of current and future economic conditions has also reached a new record low:
Amid persistent inflation, higher interest rates and recession worries, Americans have never been more negative about the economy, according to the latest CNBC All-America Economic Survey. A record 69% of the public holds negative views about the economy both now and in the future, the highest percentage in the survey's 17-year history. … Just 24% say now is a good time to invest in stocks, the lowest reading in the survey's 17-year history.
In more negative news, U.S. credit card debt just experienced an unprecedented jump as financially stretched Americans resorted to borrowing:
U.S. consumers are back to bad habits when it comes to credit card debt. Consumers added an all-time record $180.3 billion in new credit card debt to their tab during 2022, capped off by an $85.8 billion increase during the fourth quarter alone – the biggest quarterly increase ever.
Finally, a new ABC News/Washington Post survey found that 41% of Americans respond that conditions are worse today than when Biden entered the White House, which is the highest percentage that the poll has ever recorded. And although it's not an all-time record, Gallup also found that half of Americans consider themselves worse off today than one year ago, its highest measure since the depths of the Great Recession in 2009.
Beyond our shores, the Biden Administration has also presided over an alarming decline in America's international stature. Once-reliable allies like Saudi Arabia now welcome warmer relations with adversaries like China and even Iran, while Russia takes American hostages with impunity and Biden preoccupies himself with antagonizing Israel and Chinese leaders won't even take the Biden Administration's calls.
Confirming former Defense Secretary Robert Gates's observation that Biden somehow manages to bungle every major issue that crosses his desk, his administration's economic and regulatory policies have resulted in unprecedented declines in American wellbeing by multiple measures.
Consequently, as Americans consider Biden's job performance over the past two years, he may find it a difficult sale asking them to endure six more.