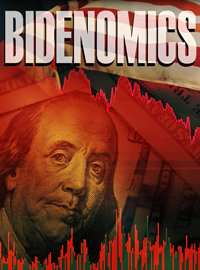 According to that CNN poll, an overwhelming 58% to 24% majority believes that Biden's policies have worsened the nation's economic conditions.
Democrats find themselves suffering a deepening panic as Joe Biden trails almost every potential Republican 2024 opponent, even according to CNN's latest survey.
A multitude of performance failures explain Biden's stubborn unpopularity, and the net disapproval from which he hasn't recovered began in the wake of his disastrous Afghanistan withdrawal.
"Bidenomics," however, remains his most intractable problem.
According to that CNN poll, an overwhelming 58% to 24% majority believes that Biden's policies have worsened the nation's economic conditions.
Accordingly, with the disparaging term "Bidenomics" appearing with increasing frequency, the Biden Administration had no choice but to embrace it as some sort of positive label.
Initially, Biden could at least spin economic data that was merely less awful than one year earlier as constituting "improvement" under his agenda in action. Sure, inflation was still triple the rate he inherited in January 2021, and interest rates were rising steeply and punishing American consumers. But hey, at least things weren't as bad as they were last summer, even if they're still bad.
"It's working," Biden would recurringly whisper into the microphone during speeches.
Last week, however, separate reports from the federal government shattered even that fragile illusion.
First, in its monthly report, the Labor Department announced that consumer prices rose in August at their steepest rate in over a year, up 0.6% in August from the prior month alone. Whereas the annual inflation rate stood at 3.2% in July, overall prices accelerated to a 3.7% annual rate in August.
Part of the problem was gas prices, which soared to a seasonal U.S. record. Retail prices rose to a $3.88 national average last month, up 11% from the previous month alone, and from $3.68 one year ago.
Second, the U.S. Census Bureau provided a double-dose of terrible news for Americans and for the Biden Administration's messaging team. In its annual report, the bureau reported that median U.S. household incomes declined 2.3% between 2021 and 2022, from $76,330 to $74,580. The reason was straightforward: Inflation rose 7.8% between 2021 and 2022, the worst since 1981, erasing whatever workers managed to secure during that period. Overall, inflation-adjusted median U.S. household income has declined $3,700 since 2019.
When American voters ask themselves next year whether they're better off now than they were four years ago, it promises a grim verdict for Biden.
In that same report, the Census Bureau brought even more disturbing news. Last year, the child poverty rate surged at its fastest pace in history, more than doubling to 12.4%.
Preposterously, Biden reacted to the bleak news by – you probably guessed it – blaming Republicans. "The rise reported today in child poverty is no accident," Biden claimed. "It is the result of a deliberate policy choice Congressional Republicans made to block help for families with children while advancing massive tax cuts for the wealthiest and largest corporations."
Never mind that Republicans didn't control Congress in 2022, nor did they pass any "tax cuts for the wealthiest and largest corporations."
That's the sort of clumsy, facially preposterous messaging that voters can expect from Biden through next November as he grasps for alibis.
Additionally, as noted in a front-page article in The Wall Street Journal, things are about to get even worse for Biden due to his own ill-advised and unconstitutional policy of extending student loan forgiveness into perpetuity:
The restart of student-loan payments could divert up to $100 billion from Americans' pockets over the coming year, leaving consumers squeezed and some of the nation's largest retailers fearing a spending slowdown.
Starting Oct. 1, tens of millions of student-loan borrowers will need to make payments averaging between $200 and $300 each month. The payments will mark the fist time that borrowers have had to make good on their loans since the Education Department instituted a pause in March 2020. In the interim, they spent the money on televisions, travel, new homes and thousands of other products.
Then there are the deepening autoworkers' and Hollywood strikes, which threaten further damage to the economy and reelection prospects of "the most pro-union president in U.S. history."
These worsening trends and accumulating dangers now have establishment Democrats advocating a different candidate atop their 2024 ticket.
Economic concerns, however, remain voters' top focus. And no potential replacement candidate would substantively improve their approach or results in that regard.
It's illogical to limit "Bidenomics" to strict association with Joe Biden personally. Rather, his economic and regulatory approach reflects a universal mindset among his party. How would Gavin Newsom, whose governance has driven California into dystopian status, somehow offer economic policy improvement? Or for that matter, Vice President Kamala Harris or borderline Marxist Senator Bernie Sanders?
Accordingly, replacing Biden wouldn't solve the problems about which Americans care most.
Paraphrasing William Shakespeare, replacing Biden at the top of the ticket would merely call a diseased rose by another name.