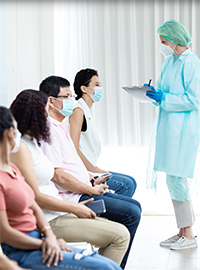 The more government controls a product or service like healthcare, the worse it gets. Shortages increase, performance declines and people suffer.
"European governments are trying to create incentives for research investments, but they are making our lives miserable on the commercial side."
That was Bayer Pharmaceutical Division president Stefan Oelrich, lamenting how drug price controls and socialized medicine in Europe cause supply shortages and stifle pharmaceutical innovation.
The lesson remains the same: The more government controls a product or service like healthcare, the worse it gets. Shortages increase, performance declines and people suffer.
Across the English Channel, Britain's National Health Service (NHS) was once a source of pride for its citizens. Following World War II, it embraced socialized medicine more than any other European nation, fully nationalizing all hospitals and offering "free" healthcare. Today, however, it has reached a state of collapse, as reported in harrowing depth by The Wall Street Journal:
Now the state-funded service is falling apart. People who suffer heart attacks or strokes wait more than 1½ hours on average for an ambulance. Hospitals are so full they are turning patients away. A record 7.1 million people in England are stuck on waiting lists for nonemergency hospital treatment like hip replacements. The NHS on Monday faced the biggest strike in its history, with thousands of paramedics and nurses walking out over pay.
The NHS's woes are an extreme example of issues playing out across the developed world… The U.K.'s experience is a warning of what happens when supply in healthcare provision can't keep up with demand.
Today, 71% of Britons rate NHS services as "bad," while just 20% rate them as "good."
As healthcare expert Nigel Edwards explained, "The U.K. has mistaken cheapness for efficiency in its approach to health, and it's coming home to roost."
Here in the United States, as illustrated by a new Gallup survey headlined "Americans Sour on U.S. Healthcare Quality," that same alarming dynamic is beginning to play out:
For the first time in Gallup's two-decade trend, less than half of Americans are complimentary about the quality of U.S. healthcare, with 48% rating it as "excellent" or "good." The slight majority now rate healthcare quality as subpar, including 31% saying it is "only fair" and 21% – a new high – calling it "poor."
The latest excellent/good rating for U.S. healthcare quality is just two percentage points lower than in 2021; however, it is well below the 62% high point twice recorded in the early 2010s. It also trails the average 55% reading since 2001.
What's notable about that timeline is that the 2010s witnessed the arrival of ObamaCare and the creeping socialization of our healthcare sector. As government assumed a greater role, satisfaction declined.
Instead of recognizing the peril and correcting course, the Biden Administration and some in Congress seek to accelerate toward the failing European models of socialized medicine, weaker intellectual property protections and drug price controls.
Even left-leaning scholars like the United Nations World Health Organization, however, unequivocally acknowledge the peril of that policy course:
[P]rice controls, combined with the threat of market lockout or intellectual property infringement, prevent drug companies from charging market rates for their products, while delaying the availability of new cures to patients living in countries implementing those policies.
Here in the U.S., the University of Chicago reached the same conclusions and quantified the impact of price controls and greater nationalization of our healthcare and pharmaceutical sectors:
The United States has fewer restrictions on price than other countries, but the Biden Administration has announced their goal to lower drug prices through greater price regulation… [N]ew drug approvals will fall by 32 to 65 approvals from 2021 to 2029 and 135 to 277 approvals from 2030 to 2039. These significant drops in new drug approvals will lead to delays in needed drug therapies, resulting in worse health outcomes for patients.
America's emphasis on intellectual property protections and free markets, as the University of Chicago study notes, have paid off in terms of drug innovation and availability. For instance, the U.S. accounts for approximately two-thirds of all new lifesaving drugs introduced worldwide. And out of 270 new medicines introduced in the U.S. since 2011, Canadians can only access 52% of them, Germans just 67%, the British 64%, the French 53%, the Japanese 48% and Australians just 41%.
We can avoid that fate, and the increasingly dystopian state of affairs in Britain and Europe described above.
That will require, however, a recommitment to free market principles and intellectual property protections, and opposing the Biden Administration effort to repeat the policy mistake of confusing cheapness for efficiency.