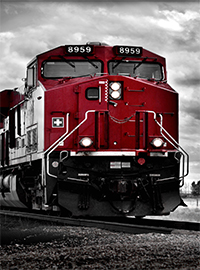 A better alternative to the Biden and House proposals exists: Allow free market forces to flourish.
President Biden and Speaker of the House Nancy Pelosi often sing the praises of rail, which received $66 billion for passenger rail upgrades in the recent infrastructure deal. Beyond that additional support for the Amtrak passenger side of the rail sector, however, President Biden and Speaker Pelosi have inexplicably chosen policies that will have devastating effects on the nation's critical freight rail system, putting untold strains on our supply chains at a time when they are at a breaking point.
In July , for example, the Biden Administration issued what The Wall Street Journal characterized as a "sweeping executive order" regulating railroads in a heavy-handed and pointlessly destructive way. Among other mandates, the order would impose what's known as "forced switching" upon competing private railroads.
"Forced switching" refers to a regulation pushed by the shipping industry under which shippers currently served by a single railroad could seek bids from faraway competitor railroads that don't own the tracks near their shipping facilities. The faraway competitor railroad would then pay an access fee to the nearby railroad, but would essentially be allowed to force its way onto tracks privately owned by the nearby railroad.
In other words, the Biden order amounts to a governmental taking of property and crony capitalist micromanagement of the private sector. That's unfair, because private railroads build their own rail infrastructure and invest heavily in maintenance and upgrades. Accordingly, the Biden Administration's "forced switching" rule would allow competitors that did not invest in creating or maintaining those rails to take advantage of them to the detriment of the investing railroad, all for the benefit of shippers who simply seek to pay below-market prices via the strong arm of government.
It's important to note that some switching already occurs under current laws and market norms, as railways sometimes allow competitor rail companies to access customers via their tracks. But that occurs voluntarily and by mutual agreement between bargaining parties. "Forced switching" would convert that into a new and disruptive government mandate.
Meanwhile, a similarly destructive proposal is gaining traction in the House. The House Transportation & Infrastructure Committee under Pelosi's strict leadership recently advanced massive legislation that contradicts Pelosi's professions of support by including provisions that would severely undercut our nation's railways.
For example, the bill would permanently mandate two-person cab crews on trains, which is a matter more properly left to railway/labor union collective bargaining, and which could stifle technological advancements and investments such as greater autonomous guidance. If competing sectors like trucking and drones are allowed to advance in autonomous navigation but railroads aren't, then that places them at a future competitive disadvantage.
Even economist Clifford Winston of the left-leaning Brookings Institution agrees:
America's infrastructure legislation must be focused on new effective technologies instead of on increasing funding for inefficient spending... In the case of rail freight, autonomous rail car operations will improve safety and efficiency, and drones can safely and efficiently detect any threats to safety in rail yards and crossings. Policymakers should stop trying to micromanage rail's current operations and should help rail enter a future of autonomy.
Ironically, these counterproductive proposals arrive just as a Northwestern University Transportation Center (NUTC) study concludes that while other transportation sector players struggled and sought Covid stimulus dollars, freight rail remained resilient. "Despite the particularly volatile period," the study noted, "railroads met consumers' and businesses' unexpected surge of demands, reliably delivering goods such as agricultural products, personal protective equipment and online retail merchandise and ultimately highlighting the rail industry's role as an essential component of the U.S. economy."
A better alternative to the Biden and House proposals exists: Allow free market forces to flourish.
As proof, last year marked the 40th anniversary of the revolutionary Staggers Rail Act of 1980, which deregulated American freight rail and thereby saved it from decline or even extinction after decades of stagnation due to longstanding bureaucratic sclerosis. Other domestic U.S. industries were disappearing, and railroads faced the same fate. The Staggers Rail Act, however, implemented a deregulatory approach that restored railways' vitality.
Today, American rail flourishes despite the Covid pandemic, accounting for 42% of total U.S. freight, while the U.S. Department of Transportation (DOT) anticipates another 30% growth in rail volume over the next two decades. Railroads now transport fully one-third of all U.S. exports, their accident rate has fallen 10% in the past ten years alone and they move one ton of goods over 470 miles on a single gallon of fuel – far surpassing the fuel efficiency of ground trucks. Rail also supports approximately 1.5 million jobs, industry employees earn 60% more than average U.S. workers and railroads have poured over $700 billion into domestic infrastructure improvements since 1980.
And as noted above, in contrast to industries like trucking, shipping or airline freight, rail travels almost entirely upon infrastructure that it built and maintains with its own dollars, and railroads didn't need federal bailouts, unlike other industries.
That's because free market forces, not federal bureaucratic mandates, guided rail policy. The new proposals from the Biden Administration and House of Representatives shouldn't be allowed to jeopardize that progress.