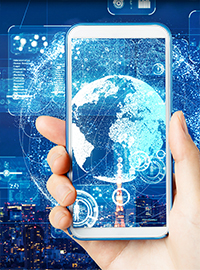 We simply cannot allow America's technological preeminence to suffer due to federal government incompetence and infighting, or consumers will pay the price as we continue losing ground to competitors like China.
Remember the Y2K scare?
Twenty years later, it elicits a wry nostalgic smile.
At the time, however, a sizeable number of technologists warned of widespread chaos as the year 1999 became 2000. Because many computer programs in use at the time only allowed two digits instead of four to mark the year, some claimed that computers across the world would be instantly incapable of operating at the stroke of midnight when the date regressed from "99" to "00" instead of "1999" to "2000." Planes would fall from the sky, some believed.
That obviously didn't occur, thanks in part to technological precautions taken.
Today, unfortunately, we're witnessing a similar scare despite similarly exhaustive technological precautions taken.
According to the Federal Aviation Administration (FAA) and some within the aviation industry, a new form of improved 5G wireless service set to debut this week might somehow disrupt altimeters used by pilots in some airplanes to determine altitude in some circumstances.
If the new 5G rollout by U.S. wireless carriers presents such a potentially grave threat to airline safety, however, then why hasn't the world witnessed any incidents in 40 advanced countries that have deployed it?
That's the pivotal question that the FAA and aviation alarmists must answer as they continue to needlessly obstruct 5G rollouts and raise false alarm among a disappointingly credulous media.
At the center of this needless controversy is a set of radio waves known as "C-band spectrum," also known as "mid-band spectrum," that is especially conducive to 5G effectiveness. That band of spectrum allows 5G networks to deliver higher service speeds over a broader geographical area, which thereby allows expanded 5G service across the United States. The wireless carriers preparing to unveil the new 5G service already paid the U.S. government $80 billion for the rights to that spectrum band, and the Federal Communications Commission (FCC) spent years investigating and resolving any potential safety concerns before issuing a 258-page decision approving its use almost two full years ago.
It's also important to emphasize that the wireless carriers' 5G rollout employs a safety buffer between the bands used by airplane altimeters and the 5G service. In fact, that guard band is approximately twice as broad as the buffer first proposed by the aviation industry, and twice as large as the one determined by the FCC to guarantee aviation safety. It's also larger than the buffer band required in some of the nations already using this form of 5G without incident.
Nearly two years later, however, the FAA curiously decided to contest the FCC determination and threatened to ground or divert flights unless the 5G rollout was delayed. In the spirit of good faith compromise, the wireless carriers delayed rollout for six months, and two weeks ago extended that original delay to this week.
Despite those myriad accommodations and concessions from the wireless carriers, the FAA and aviation sector alarmists appear intransigent and persist in their objections. It's by now apparent that in its stubborn effort to protect its bureaucratic turf the FAA will never be satisfied. Meanwhile, nations like China continue their own 5G rollout, unencumbered by these sorts of internal bureaucratic shenanigans.
This week the wireless carriers further accommodated the aviation sector's concerns by agreeing not to activate 5G signals near airport runways, but it appears that no concession will ever be enough. Again, 40 other nations employing fewer precautions already allow the type of 5G service in question, without reported incident. Accordingly, this controversy increasingly resembles the Y2K false alarm of over two decades ago.
However these near-term controversies get resolved, similar issues will likely persist as the future telecommunication sector improvements occur. The White House, Congress and administrative officials must learn from this experience and do better in the future. We simply cannot allow America's technological preeminence to suffer due to federal government incompetence and infighting, or consumers will pay the price as we continue losing ground to competitors like China.