By Quin Hillyer
Thursday, December 13 2012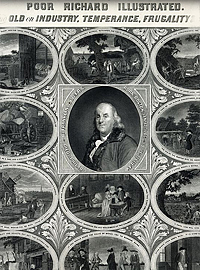 Franklin's wisdom is applicable today because it is wisdom that has been successful every time it has been tried in these United States.
Ben Franklin might have had something to say about Barack Obama's twisted vendetta against the "rich."
The great and wise Franklin, sounding much like an 18th Century Jack Kemp, wrote a fascinating response in 1784 in answer to an English editor accusing Americans of predilections towards luxury. Franklin, despite his own personal frugality, argued that a taste for luxury might not be a bad thing.
"Is not the hope of being one day able to purchase and enjoy luxuries a great spur to labour and industry? May not luxury, therefore, produce more than it consumes?" Even self-indulgence to the point of dissipation had its advantages: "A vain, silly fellow builds a fine house, furnishes it richly, lives in it expensively, and in a few years ruins himself. But the masons, carpenters, smiths and other honest tradesmen have been by his employ assisted in maintaining and raising their families; the farmer has been paid for his labour and encouraged; and the estate is now in better hands."
Franklin followed with a story about how a gift of a stylish (but unnecessary) cap to a certain young lady spurred all the neighboring girls to want similar caps, expensive though they might be – and, in order to afford them, the girls began knitting mittens for sale in Philadelphia. A little cottage industry was begun; the girls were better off for earning the money, and the cold Philadelphians suddenly had a new source of mittens to warm their hands. "And you know," he added, "that industry has continued, and is likely to continue and increase to a much greater value, and answer better purposes."
This account comes from the superb year 2000 biography of Franklin, The First American, by H. W. Brands. The same book recounted Franklin's ideas about the best way to help disadvantaged people escape from poverty. As Brands described it, Franklin questioned:
…the English statutes for the maintenance of the poor. Franklin asked himself whether these laws had not instilled in the poor "a dependence that very much lessens the care of providing against the wants of old age." He did not question the morality of aiding the poor, only the efficacy. "To relieve the misfortunes of our fellow creatures is concurring with the Deity; 'tis Godlike, but if we provide encouragements for laziness, and supports for folly, may it not be found fighting against the order of God and nature…?"
Finally, Franklin argued against national indebtedness and against a failure to be dependable partners for national allies:
If we do not convince the world that we are a nation to be depended on for fidelity in treaties, if we appear negligent in paying our debts, and ungrateful to those who have served and befriended us, our reputation, and all the strength it is capable of procuring, will be lost, and fresh attacks will be encouraged.
Other, pithier statements have been attributed to Franklin, along similar lines: "When the people find that they can vote themselves money, that will herald the end of the republic." And: "The U.S. Constitution doesn't guarantee happiness, only the pursuit of it. You have to catch up with it yourself." And: "I am for doing good to the poor, but I differ in opinion of the means. I think the best way of doing good to the poor, is not making them easy in poverty, but leading or driving them out of it." And, finally: "I am a mortal enemy to arbitrary government and unlimited power."
Now it might be said that neither the bons mots nor the considered philosophy of a man who died 222 years ago, even one as celebrated as Franklin, should be particularly relevant today. On the contrary, perhaps no man in history has better exemplified the essential American character than Franklin. Born into what now would be called a "working class" family, a runaway from an apprenticeship at age 17 with barely the clothes on his back, Franklin was the quintessential self-made man, duly honored for multitudinous discoveries in science, for his writing and publishing, for his civic organizing ranging from postal improvements to fire departments to organized militias – and, of course, for his great statesmanship.
Before anybody else, Franklin (way back in 1754) was proposing a union of the American colonies; more effectively than anyone else, he was carrying America's case in Europe against taxation without representation; more cannily than any other diplomat, he talked France into joining the colonies' side in the Revolutionary War, thus providing the means of victory, and at the ripe age of 81, he was the first to propose the compromise on Senate representation that saved the Constitutional Convention.
Franklin's wisdom is applicable today because it is wisdom that has been successful every time it has been tried in these United States. The free market, combined with a limited government, spurs industry, creates jobs and diminishes poverty, far better than any government program. It is wisdom we should always heed.