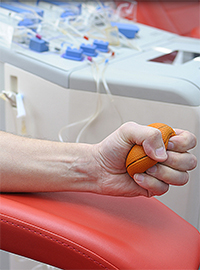 Although the ostensible goal of importing drug price controls from other nations is simply to reduce costs, the inevitable result would be to render new drugs unavailable at all.
Lauran McLinn is a mother of another inspiring boy, Jordan. Jordan has Duchenne muscular dystrophy, a fatal muscle weakening disorder. Jordan was at my side in Indiana when as governor, I signed a law allowing terminally ill patients to access experimental drugs not yet approved by the FDA. In 2018, President Trump signed the landmark Federal Right to Try bill into law. Thanks to the president's leadership, critically ill patients have the right to access lifesaving experimental treatments.
That was Vice President Mike Pence, speaking during this week's Republican National Convention, and highlighting the forward-leaning manner in which the Trump Administration has generally approached healthcare and pharmaceutical innovation.
In that same vein, this week brought more positive news as the Food and Drug Administration (FDA) authorized the use of convalescent plasma on an emergency use authorization (EUA) basis for coronavirus patients. That follows the FDA's earlier breakthrough approval of Gilead Science's remdesivir for emergency use.
In essence, convalescent plasma works by taking antibodies form recovered coronavirus patients, then infusing current patients with plasma containing those antibodies. So far, approximately 70,000 patients have received such treatment.
And so far, the statistical results have proven promising, per The Wall Street Journal:
The most persuasive evidence comes from a Mayo Clinic study, which has enrolled 90,000 hospitalized subjects since April. Although the study doesn't include a placebo group for comparison, mortality was 21% lower among non-intubated patients treated with plasma containing high levels of antibodies versus lower levels. Among a smaller subset of non-intubated patients below age 80 who were transfused within 72 hours of diagnosis, seven-day mortality was 44% lower among the high-antibody group.
In another study out of Houston, convalescent plasma treatment slashed mortality among patients by 50%, and 83% among patients treated with plasma containing elevated levels of antibodies.
Regardless of results in more extensive clinical trials with placebo control groups, results of that magnitude certainly offer promise amid the rush to develop vaccines and treatments to fight the worldwide coronavirus pandemic and reduce the ongoing medical, social and economic upheaval hammering societies.
Elsewhere, the pharmaceutical sector is in hyperdrive researching and developing vaccines and treatments for coronavirus. In sum, over 750 drugs have entered the Phase II screening or Phase III clinical trial stages, some of which could be available for widespread use by autumn. In the U.S., Operation Warp Speed has already poured an incredible $10 billion into six new vaccine candidates, and already arranged manufacturing capacity for 2.8 billion doses of coronavirus vaccines when they arrive.
All of that offers testament to the innovation of our pharmaceutical sector, which has served as a convenient rhetorical punching bag for decades, but which people should now realize offers the best hope for conquering this crippling pandemic. Vaccine development that typically takes years or even decades has been compressed into a window of months.
America's pharmaceutical sector also produces two-thirds of all new drugs introduced worldwide, meaning that we produce as many new drugs as the rest of the world combined. That reflects America's commitment to strong patent rights, as well as our greater free-market orientation.
To date, the Trump Administration has thankfully strengthened those free-market and intellectual property protections that distinguish the U.S. from the rest of the world, including the "right to try" initiative referenced by Vice President Pence this week.
Unfortunately, in recent weeks the Trump Administration has jeopardized that agenda by proposing to set U.S. drug prices according to price controls imposed by foreign nations practicing socialized medicine. Although the ostensible goal of importing drug price controls from other nations is simply to reduce costs, the inevitable result would be to render new drugs unavailable at all. That's because even industrialized European nations like Germany, France, Britain and Greece receive 40%, 50%, even 90% fewer new lifesaving drugs than American consumers. In turn, that means substantially lower survival rates for cancer and other diseases.
So while the Trump Administration is to be applauded for an agenda that to date has accelerated U.S. pharmaceutical innovation through reinvigorated free markets and patent protections, along with initiatives such as "right to try," now is the worst possible time to undermine that progress with dangerous drug price control executive orders.
We're already witnessing the results of American pharmaceutical innovation. Let's continue what got us here, rather than inexplicably reverse it.