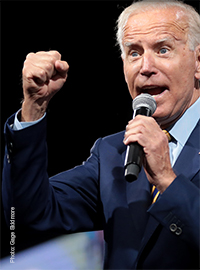 Ms. Clements appears to support the same activist policies that derailed Chairman Glick's renomination, with the additional baggage of potential ethical concerns.
When it comes to nominating the next Chair for the Federal Energy Regulatory Commission (FERC), Joe Biden is learning that Senator Joe Manchin (D – West Virginia) might not have been a man to scorn.
Earlier this month, Biden nominee and current FERC Chair Richard Glick acknowledged that his nomination was untenable after Senator Manchin – who chairs the Senate Energy and Natural Resources Committee – made his opposition known.
Rather than accommodating Senator Manchin's concerns, however, Biden appears inclined to nominate sitting FERC Commissioner Allison Clements for the Chair position. That is raising eyebrows because Ms. Clements comes with the baggage of a questionable ethical history, and her profile as an ideologue makes her a potentially awkward choice for a position that demands objectivity and a cohesive leadership style.
By way of background, recall how Senator Manchin provided the final vote for Biden's "Inflation Reduction Act" last summer. That legislation imposes numerous new "Green New Deal" restrictions upon the U.S. energy industry, and actually increases inflation over the next calendar year. Senator Manchin, however, was persuaded to support the bill based upon assurances that other pro-energy policies he favors might come to pass.
Senator Manchin, however, was quickly betrayed by Biden himself.
Among other nettlesome issues, Biden promised at a fundraiser in California to shut down fossil fuel plants across the country in favor of wind and solar projects, and subsequently promised "no more drilling" for gas during a speech. An enraged Senator Manchin labeled Biden's betrayal "offensive and disgusting," and openly demanded "an immediate and public apology."
Meanwhile, Senator Manchin actively opposed Biden's nomination of FERC Chairman Glick for another term in the wake of Biden's remarks and Glick's record of activism. That culminated in Glick acknowledging this month that his renomination prospects were impossible.
Instead of correcting course and accommodating Senator Manchin's concerns, Biden appears likely to nominate Ms. Clements to be the next FERC Chair:
Commissioner Allison Clements is the second-longest-serving Democratic member of the commission after Glick, making her a likely candidate for chair. Commissioner Willie Phillips, another Democrat, could also be named chair by Biden. Historically, the president has selected a chair of FERC that aligns with his party. While Clements and Phillips both supported the greenhouse gas policy, Clements' views on the issue appear to more closely align with Glick, analysts said.
Ms. Clements would constitute a curious replacement nomination choice, since she broadly supports the same activist policies that led Senator Manchin to oppose Mr. Glick's renomination.
Perhaps even more damning, Ms. Clements has conducted herself in a manner that raises significant ethical concerns for a FERC commissioner:
A top Biden Administration official briefed a "funders only" event hosted earlier this year by the Energy Foundation, her former employer, according to records obtained by an energy policy group. Allison Clements, a Democratic commissioner on the five-member Federal Energy Regulatory Commission (FERC), ultimately agreed to attend the Jan. 10 funder event despite an Energy Foundation official suggesting her presence might be "inappropriate," according to text messages and emails obtained by the Institute for Energy Research (IER) and shared with Fox News Digital…
While the content of Clements' briefing remains unclear, IER and ethics experts said her presence at a meeting of apparent Energy Foundation donors raised ethics questions.
Moreover, that wasn't the only activity raising ethical concerns, according to the report:
In addition to the Energy Foundation briefing, though, other emails obtained by IER showed Clements consulted with leaders at the National Resources Defense Council (NRDC), another climate group she previously worked for. In April, Clements met privately with Manish Bapna, the NRDC's president and CEO, according to records.
Accordingly, Ms. Clements appears to support the same activist policies that derailed Chairman Glick's renomination, with the additional baggage of potential ethical concerns.
It remains to be seen whether Biden will invite further embarrassing rebuke from Senator Manchin by nominating Ms. Clements, or alternatively read the proverbial writing on the wall by looking elsewhere for someone more moderate and free of ethical concerns.