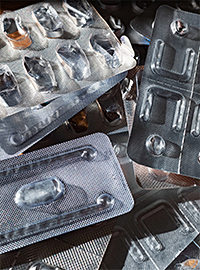 From branded drugs to off-patent older generics, the Biden Administration accelerated government efforts to artificially target drug prices, oblivious to the foreseeable consequences. We're now suffering the consequences of that agenda.
"The record of price controls goes as far back as human history. They were imposed by the Pharaohs of ancient Egypt. They were decreed by Hammurabi, king of Babylon, in the eighteenth century B.C. They were tried in ancient Athens." -Henry Hazlitt
If the popular definition of insanity as "doing the same thing over and over and expecting different results" holds merit, then no contemporary government effort exceeds the needless insanity of drug price controls.
And now we're paying an increasingly heavy price for it.
America's comparatively market-oriented system resulted in an unrivaled legacy of pharmaceutical innovation and abundance relative to the rest of the industrialized world.
For example, the United States accounts for approximately two of every three new lifesaving drugs introduced worldwide, meaning that we alone create twice as many new drugs as the entire world combined. As another illustration, American consumers enjoy a substantially higher availability of critical drugs compared to people in other advanced economies. Of 270 new medicines introduced domestically since 2011, only 52% of them were available to our neighbors just across our northern border in Canada, 41% in Australia, 48 % in Japan, 53% in France, 64% in Britain and 67% in Germany.
The illusory appeal of drug price controls, however, remained a powerful temptation for some political leaders.
Amid debate over Biden Administration efforts to impose broad drug price controls back in 2021, a University of Chicago study warned of their potential negative impact on future drug innovation and availability:
The United States has far fewer restrictions on price than other countries, but the Biden Administration has announced their goal to lower drug prices through greater price regulation. … [N]ew drug approvals will fall by 32 to 65 approvals from 2021 to 2029 and 135 to 277 approvals from 2030 to 2039. These significant drops in new drug approvals will lead to delays in needed drug therapies, resulting in worse health outcomes for patients.
Several years earlier, the United Nations World Health Organization (WHO) issued a similar warning about the consequences of government price controls and intellectual property violations:
[P]rice controls, combined with the threat of market lockout or intellectual property infringement, prevent drug companies from charging market rates for their products, while delaying the availability of new cures to patients living in countries implementing those policies.
Disregarding those warnings and textbook economic logic, the Biden Administration and Pelosi-Schumer Congress plowed ahead with the misnamed Inflation Reduction Act, whose drug price control provisions President Biden trumpets as a 2024 reelection theme. From branded drugs to off-patent older generics, the Biden Administration accelerated government efforts to artificially target drug prices, oblivious to the foreseeable consequences.
We're now suffering the consequences of that agenda.
Drug shortages have now reached record highs, increasing by 30% between 2021 and 2022 alone, according to a new report from the Senate Committee on Homeland Security and Governmental Affairs:
Shortages of critical medications continue to rise – including drugs used in hospital emergency rooms and to treat cancer, prescription medications, and even common over-the-counter treatments like children's cold and flu medicine. The number of active drug shortages in the U.S. reached a peak of 295 at the end of 2022. … Between 2021 and 2022, new drug shortages increased by nearly 30 percent. At the end of 2022, drug shortages experienced a record five-year high of 295 active drug shortages.
Separately, a new report from the American Cancer Society warns of emerging drug shortages, caused in part by drug pricing policies:
Chemotherapy drugs used to treat cancer are increasingly in short supply and have returned to the list of top-five drug classes affected by shortage. Expanded demand, supply shortages, limited manufacturing capacity, and low profit margins for generic therapies are among the factors resulting in the current nationwide shortage. … A number of the drugs included in the shortage don't have an effective alternative. As first-time treatments for a number of cancers, including triple-negative breast cancer, ovarian cancer and leukemia often experienced by pediatric cancer patients, the shortage could lead to delays in treatment that could result in worse outcomes.
Instead of recognizing the growing peril and correcting course, however, leftists in Congress like Senator Amy Klobuchar (D – Minnesota) seek to accelerate the drug price control agenda. The equally misnamed "Strengthening Medicare and Reducing Taxpayer (SMART) Prices Act" would dramatically increase the number of drugs subject to government price controls, shorten timelines for price regulation following approval and draw more products within the government's regulatory reach.
See the definition of "insanity" above.
Drug shortages may not be completely new, as the Senate report makes great strains to assert, but today the number has reached record levels in tandem with the drumbeat in favor of drug price controls, weaker intellectual property protections and regulatory browbeating.
Instead of perpetuating the cycle of price control insanity, elected leaders should return to the more market-oriented approach that brought unrivaled innovation before even more Americans pay the needless cost.