Wednesday, September 21 2022
WASHINGTON, D.C. – The Center for Individual Freedom ("CFIF") this week highlights the urgent need to protect America's borders by calling out the actions of woke banks, politicians and billionaires who are jeopardizing our nation's border security.
A full page ad in Politico anchors CFIF's efforts. The ad features billionaire activist and financier George Soros, who has spent millions of dollars funding campaigns that promote open borders, CEO Jamie Dimon, whose bank JPMorgan Chase is one of several refusing financing to legal American businesses that assist ICE in fulfilling our immigration laws, and New York Congresswoman Alexandria Ocasio-Cortez, who is among the progressive politicians fighting to undercut ICE and leave our borders unsecure.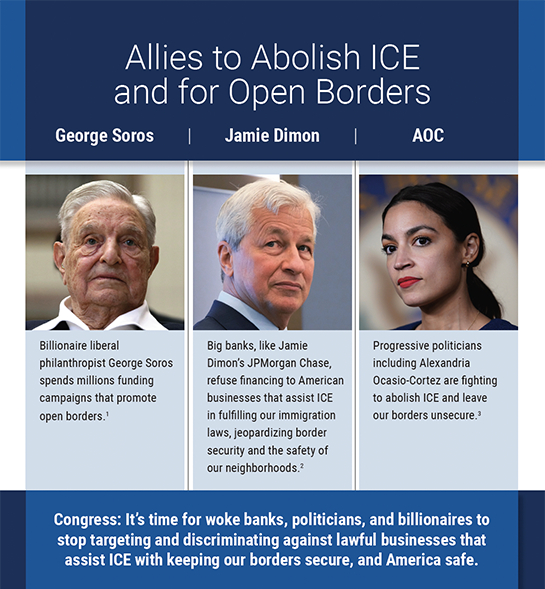 "These outspoken opponents of sound immigration policy threaten the safety and security of our country, without regard for the rule of law or the national infrastructure in place to process non-citizens at the border," said CFIF President Jeffrey Mazzella.
The Department of Homeland Security and ICE have been forced to manage record numbers of migrants overwhelming the southern border over the past year.
Speaking directly to the issue of major banks like JPMorgan Chase, Timothy Lee, CFIF's Senior Vice President of Legal and Public Affairs, added, "It is ludicrous that major banking institutions are bowing to the political pressures of ill-informed activists in choosing not to work with legal American businesses that, in this case, help ICE fulfill our nation's immigration laws."
"When banks outrageously target legal businesses in this manner, they facilitate destructive policy. In this case, that complicity only fuels a crisis that threatens the safety, security and wellbeing of Americans both in border states and across the nation."
Founded in 1998, the Center for Individual Freedom is a constitutional and free-market advocacy organization with more than 300,000 supporters and activists nationwide. CFIF strongly believes that a breakdown in the rule of law threatens the individual freedoms of all Americans.
###